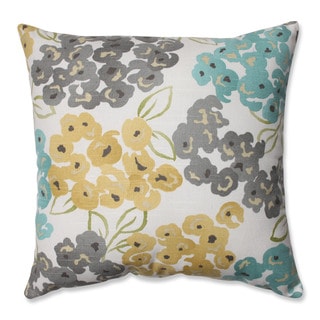 They are also known as toss pillows. They are small decorative types of pillows that are usually placed on sofa sets or arm chairs but they can also be placed on beds and floors. Throw pillows even though small, have a great significance in the overall appearance of a room. They can completely change the look of an entire room or space, thus updating the room for the season. One of the best features of throw pillows is that they require very little investment in terms of time and money.
There are numerous shapes and sizes prints and colors, fills and fabrics available for one to choose from when it comes to throw/toss pillows. There are various ways in which you can narrow down the ones that you can use for your space. Below are some guidelines that you can use to find the perfect pillow for your space
Throw Pillow Buying Guide
I ) Shape and size
Toss pillows are available in numerous shapes and sizes. If you want a dynamic look, try to make the shape and sizes of the throat pillows on one piece of furniture different.
· Square: these are the most common shape of throw pillows. The most common sizes are 16, 18 and 20 inch versions but also there are other smaller or larger sixes that are available. if you love changing your décor frequently, it would be better if you stick to same size square toss pillows, then you'll have an easy time by replacing the covers whenever you feel like.
· Round: these are not as common as square throw pillows but are a very good choice for balancing the straight lines of rectangular and square pillows; they give a very beautiful appearance.
· Bolster: they are mostly used on beds. Cylindrical shaped bolster pillows are meant to prop up someone's arms or their backs when seated
· Lumber: these throw pillows have an oblong rectangular shape. Initially they were meant for back support but now they are commonly used for ornamental purposes.
II) Fabric
Throw pillows are available in very many kinds of fabrics. But the following fabrics are most popular in the making of throw pillows
· Cotton: this fabric is long lasting, casual and easily washable. This makes it suitable for homes that have young children and also pets
· Fur/faux fur: fur especially the Mongolian wool has been widely and commonly used lately because of the luxurious look they add to the furniture. Their biggest disadvantage is that they are mostly guaranteed to be dry-cleaned only.
· Linen: this fabric is low maintenance compared to other fabrics. Linen is usually blended with cotton and polyester which are durable. You can use linen to give off a breezy,light vibe for summer. Jute is also a viable option for summer
· Velvet: this fabric is best for winter since it adds an instant warmth to a room
· Wool: this fabric gives of a winter vibe or an alpine vibe. It is very suitable for mountain retreat areas and also for colder months.
III) Fill
There are three common materials that can be used to fill throw pillows. The following combinations of fills can be found
· Polyester: synthetic polyester is a cheap fill option especially if the throw pillows are for decorating purposes only. The polyester should also be tightly packed.
· Down: this fill is softer and lasts longer than polyester but is more expensive. They are more comfortable and can be easily fluffed back into shape, so they are best for pillows that have lots of use.
· Foam: this fill holds shape than either polyester and down. It is most common for bolsters or round throw pillows.
IV) Print and Color
Some of these guidelines will guarantee you get the right print for your throw pillows
· If you decide to mix prints, have a plan. Stick to a common color palette in order to ensure a cohesive appearance. The hues of the pillows should at least relate to the color scheme of the space in consideration.
Also you should pay attention to scale if you decide to mix prints, if your curtains and rugs have different scale prints you can choose a toss pillow that agrees with both of them on a certain degree.
· Use colors that are in the surrounding: when choosing throw pillows it's better when you choose colors from the surrounding furniture or textiles that are in the room, this helps to tie the room together. You can break up the sea of print and color by using solids or neutrals, these give the eyes a place to rest.
V) Price range
Throw/toss pillows can cost anything between $20 to $200. The reason as to why there is such a wide price range is because of a number of things such as:
difference in fill quality: down filled pillows are much more expensive than polyester
differences in designer fabric, differences in textile quality and also embellishments all these result in wider price ranges
Buying Tips
Look for tightly sewn seams, thick fabric covers.
Avoid sparse fill or protruding feathers in down pillows since it indicates losing fill.
Also when buying throw pillows for your home consider:
-How you will use them, whether for lying on everyday or for decoration
-Your budget, ensure your budget involves buying in multiples since throw pillows look best in groups
-Your family members whether you have children or pets
Maintenance and care
The type of throw pillow you buy determines how you care for it those with covers are easier to care for than those without.